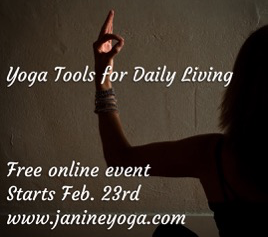 Have you been able to incorporate yoga into your daily living? I know most of us who love yoga try to make it a part of our everyday lives. But it's not always easy!
I want to share an incredible FREE opportunity with you. My friend, Janine Murphy, is putting together an online event called:
Yoga Tools for Daily Living: Staying Stronger, Calmer and Happier Throughout the Day.
And I'm especially excited because she asked ME to be part of it.
This online event will be a collection of experts in the fields of yoga, mental health, wellness and health coaching. There are so many great people participating, I want to encourage you to sign up HERE (janineyoga.com)
This will be the type of event to inspire you and give you new insight into how yoga tools can overlap into everyday living.
I love participating in events like this because it creates a sisterhood of support for all of us. Please sign up to hear what my daily tool is! Every speaker has got one, and you'll be amazed at how easy and powerful they are.
See you at the summit!