4 Days To Change Your Life!
April 13th – 16th, 2018
If you could change your life in just 4 days, would you take the time?
Have you ever felt STUCK in your life? You really want different results, but the same patterns and behaviors keep showing up, keeping you stuck. You think "next time I'll act different" or "I'll start fresh tomorrow."  Then you simply don't change or start.
You are not alone. When these patterns and behaviors keep repeating themselves it leaves you feeling that you are broken, or a poor performer, or that you have no "will power" or that you are just meant to stay this way. Nothing could be further from the truth!!
You CAN get past it.  You can take action and get the results you want in a reasonable time. Change your thinking… change your life! This is called "Perception-eering." With perception-eering, you learn to change your perceptions, release self-defeating behaviors, and improve all areas of your life. Learn what makes you stuck. Become UNSTUCK! Picture what you could accomplish!
In this 4-day workshop, Master Hypnotist Scott McFall will use humor, demonstration, break-out practice sessions, and a little bit of magic, to help you get "unstuck." Learn to identify the patterns and behaviors that keep you stuck, and hypnosis techniques to use to get "unstuck" so you can finally BREAK FREE OF THOSE PATTERNS!
SO WHAT CAN PERCEPTIONEERING DO FOR YOU?
Improve communication with family, friends, bosses & co-workers
Make better choices about eating habits and exercise
Take better direction and achieve success in your career
Become calmer and deal better with stress — ENJOY LIFE!
Value yourself and your worth in the world around you
Have a better relationship with money
Develop more meaningful relationships
Feel and Be more present in your life
Create the life you truly desire and deserve!
If you feel like you've hit a roadblock that you can't figure out how to move past, THIS TRAINING IS FOR YOU!
If you feel like you have poor communication with the people around you, THIS TRAINING IS FOR YOU!
If you want to improve relationships with your partner, family, or friends, THIS TRAINING IS FOR YOU!
If you want to create room for success in your business, sales, customer transactions, and your overall career, THIS TRAINING IS FOR YOU!
If you desire to love yourself, establish healthier habits, lose weight, or feel more confident in your skin, THIS TRAINING IS FOR YOU!
If you want to feel worthy, make more money, develop better money habits, and vanquish old spending habits, THIS TRAINING IS FOR YOU!
If you want to show your business team how to work together to boost sales, work better together, and improve client relationships, THIS TRAINING IS FOR YOU…AND YOUR TEAM (and we offer group discounts)!
—————————————————————————-
Scott McFall is a Master Hypnotist, Author, International Speaker, Coach, Trainer, and Entertainer. Some of his past clients include Harley Davidson, 3M, Wells Fargo (and hundreds more corporations), government agencies, television programs, and movies. His motivational methods are used by hundreds of centers internationally. Tens of thousands of Scott's students all over the world have reported dramatic improvements in outcomes such as improved health, career advancement, improved sales, and increased satisfaction with their personal and professional relationships.
Because of Scott McFall's more than 30 years of successful client results, we are offering a 100% Money Back Guarantee: If you don't feel this event is for you by lunch of the first day, you'll get your money back with no questions asked.
Presented by Ohio Valley Hypnosis and Wellness, located in Hubbard, Ohio.
Register for the 4-Day event by filling out the form below. You will be contacted via phone by Ohio Valley Hypnosis. 
Click The Image Below To RSVP To Our Facebook Event!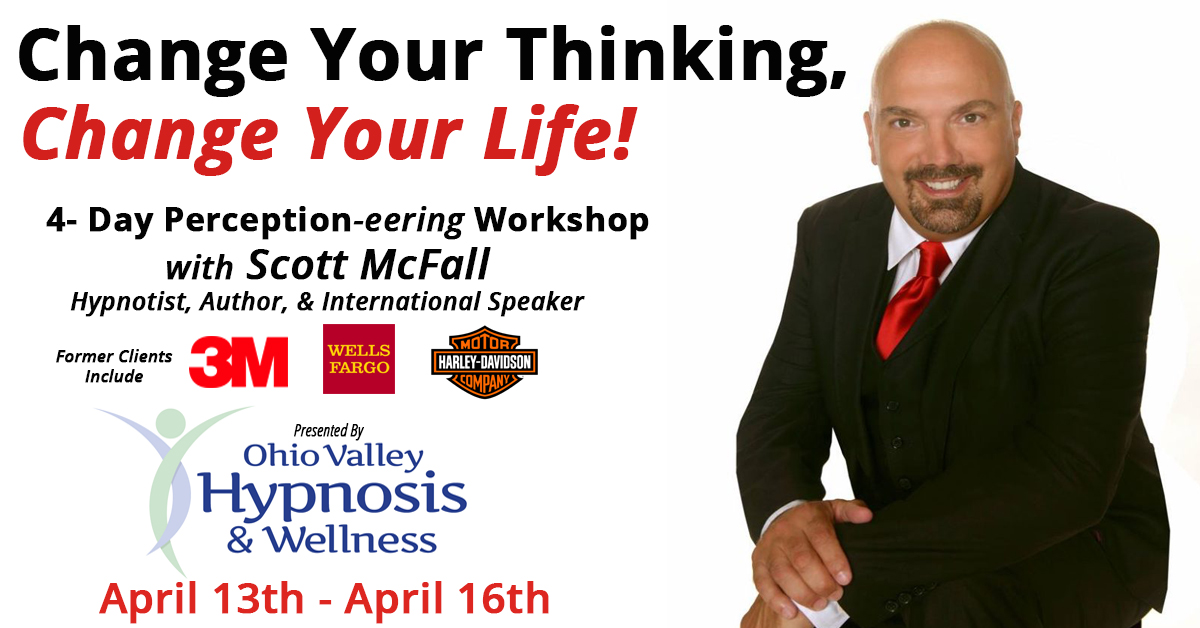 Free Hypnosis Screening!
Call Today For Your Free Hypnosis Screening!
(330) 568-4747
Call Today